About us
APIS Accountancy Ltd. was established in 2004, in Cracow, Poland.

Agnieszka Bartula is the founder and owner of APIS Accountancy Ltd. (Certificate in Accounting by Ministry of Finance No. 5197/2004).

APIS Accountancy Ltd. specialises in providing excellent and comprehensive accounting and taxation services for small and medium size businesses, as well as foundations and associations.

We provide services with regard to tax, accounting and Social Insurance Institution (ZUS) calculations, as well as labour issues. Our services are characterised by a client-oriented approach, the highest quality of our business endeavours, and competitive prices, as well.

We are highly experienced in book keeping and accounts of EU financed projects within POKL, POIG.

The efficiency and quality of our services can be judged by the 150+ companies that have decided to cooperate with APIS Accountancy Ltd.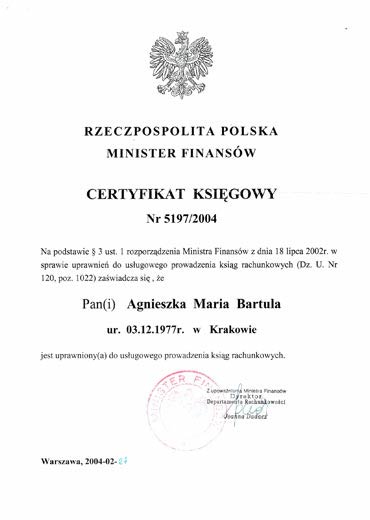 Our assets
Reliability and the highest quality service available
Our comprehensive accounting services are backed up by considerable knowledge and extensive experience, we conduct internal document audits on a regular basis. Our company constantly collaborates with law and tax specialists.
Experience
Our team consists of specialists with extensive experience in taxation, financial accountancy and labour law. We constantly improve and upgrade our skills by attending accountancy courses regarding tax and payroll and personnel issues.
Security
Our company ensures maximum security for all our accounting services. We are Certified in Accounting by the Ministry of Finance (number 5197/2004) including third party and accident insurance for our business. We use licensed accounting software and a high technology data base (Microsoft, InsERT). In the interest of our Clients, we use the safest methods of data archiving.
Competitive prices
Lump sum on registered revenue – from 100 PLN (net price).

Register of revenues and expenses – from 150 PLN (net price).

Accountancy (account books) – from 500 PLN (net price).